About HVA (Outdoor)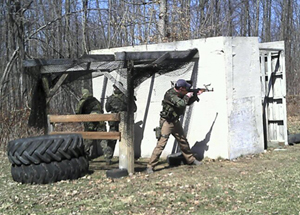 Hudson Valley Airsoft is an airsoft field, not a team. We are open to all players. Come out and have fun with the friendliest group of airsoft players around!
HVA is the first legitimate and insured airsoft field in the Hudson Valley. We believe safety comes first and follow strict safety procedures. The Hudson Valley Airsoft field includes a simulated bombed out city and we will be building more buildings and obstacles as the summer nears. Our city has a ton of cover including a 30'x16' kill house, and the recent addition of an expanded multi-room second kill house. The field also contains a forest with bunkers and plenty of cover. Our field is airsoft only, no messy paint anywhere. We are always expanding both the size, number and quality of our cover. We will be hosting large ops as well as open plays. Tactical courses are planned for more experienced players.
We have charging stations, indoor staging facility for the winter months, bathrooms, and we are open all winter long!
Admission & Rental Prices
These prices reflect a full day of play, every game from open to close.
| Price | Admission | Rental & Magazines | Bag of BBs | Goggles | Gear |
| --- | --- | --- | --- | --- | --- |
| $20.00 | Yes | No | No | No | No |
| $49.95 | Yes | Yes | Yes | Yes | If Available |
We have a variety of rental guns available, all of which are very high quality AEG rifles. To inquire about a gun or reserve one just contact us.
Rules & Safety
Field referees are always on the field to assure safety, but when you come know the rules. Click here to view the rules.
About Airsoft
For more information on Airsoft and guns, Click Here.